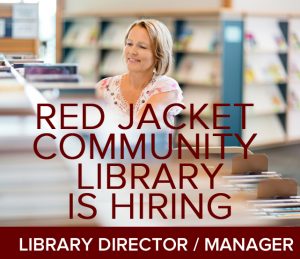 The Red Jacket Community Library is seeking a Library Director to serve the community and support our mission: To inspire learning and creativity by providing access to materials, resources, programs, and services in a safe and welcoming environment.
We share a spacious, modern facility with the Red Jacket school district library, located in the school complex. The Community Library Director works cooperatively with school district staff to make best use of shared facilities and resources. The Director must also be skilled at outreach and engaging diverse groups in the community to identify and meet their needs.
Our operating hours are primarily evenings and weekends. Salary range is $40,000 to $50,000 commensurate with experience. Benefits include employer contribution to a health insurance plan (approximately $6,000 value), plus 13 paid holidays, vacation leave and sick leave.
Job Summary
Under the direction of the Board of Trustees, the Red Jacket Community Library Director communicates the Library's services and value to the residents of the Red Jacket Central School District. Works cooperatively with school librarians, manages community library staff, performs collection development, and oversees development of programs and services that address the needs of the Red Jacket community.
Essential Duties
Communicates the library's services and value to community stakeholders and groups.
Oversees and develops programs and services to address the needs of the Red Jacket community.
Manages library staff ensuring a high level of service to the community.
Recommends appointments, promotions and disciplinary actions
Manages facilities cooperatively with school staff.
Establishes and maintains a good working relationship with the school librarians and other school staff.
Develops policies, procedures, annual budget and other essential documents with library board.
Assesses, budgets, procures, and maintains the collection of library materials suitable to community interests.
Secures funding through budget allocations, grants, and donations.
Presents director's reports and relevant information at monthly board meetings.
Actively participates in the Pioneer Library System community and attends professional development training sessions and meetings.
Performs other duties as assigned.
Required Knowledge, Skills and Abilities
Ability to speak and write effectively to a broad range of audiences.
Ability to work collaboratively with School District staff to build a library team that functions well together to meet the needs of both entities.
Ability to manage and develop library staff.
Ability to schedule time effectively and to meet deadlines.
Ability to understand and communicate diverse sets of information; research topics relevant to the library and library board; use intuition and experience to make decisions for the library.
Ability to display original thinking and creativity, to generate suggestions for improving services and operations, and to develop innovative approaches and ideas.
Ability to respond promptly and appropriately to requests from the Board of Trustees, staff, Friends group, and community.
Knowledge of basic computer software (Word, PowerPoint, Excel, etc) and a willingness to learn new computer skills and technology that are required for the up-to-date operation of the library.
Working knowledge of library services and procedures; Knowledge of current trends impacting libraries and the ability to adopt those appropriate to the Red Jacket community.
Willingness to work evening and weekend hours and travel to meetings and trainings as necessary; valid driver's license required.
Education and Experience
Master's Degree in Library Sciences or related field or equivalent experience desired; Bachelor's Degree from a regionally accredited New York State registered college or university required.
Civil Service Classification
This is a civil service position classified as competitive. For additional requirements see the Ontario County Department of Human Resources (OCHR) job specification #593, LIBRARY MANAGER, for libraries serving a population of 5,000 – 7,499. Successful completion of a competitive exam issued by the OCHR is required. Candidates will be appointed on a provisional basis pending qualification on a civil service examination, when next offered. Following successful completion of the exam, the candidate may receive a probationary permanent appointment.
For more information or to apply please call the library at (585) 289 3559 and leave a message for the hiring committee, or email the Board of Trustees.