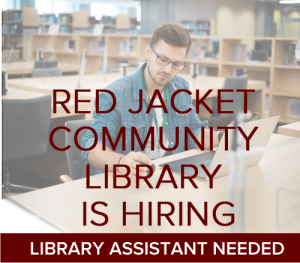 Red Jacket Community Library is seeking a self-motivated professional to be our full-time Library Assistant. This position is focused on assisting with Youth Services and reports to the Library Director. The Library Assistant is responsible for developing, planning and coordinating a variety of programs and services for children and teens.
The Red Jacket Community Library is a public library located in Shortsville, NY that shares a combined space and collection with the Manchester-Shortsville Central School District. The library is frequented by all ages, however daily attendance includes a particularly high number of patrons who represent the youth segment of the population.  Experience working with youth is preferred. Comfort with computer software and virtual programming preferred.
JOB DESCRIPTION
Job Title:             Library Assistant / Youth Services
Reports To:         Red Jacket Community Library Director
Duties and Responsibilities:
A. General (apply to all staff)
Understand, support and implement library policies, objectives and procedures.
Project a positive image of the library, with a focus on providing good service.
Work smoothly and cooperatively with the public and staff using courtesy, tact and good communication.
B. Technical Responsibilities
Develop and implement programs, both in-person and virtual, for youth including:

Infant and toddler programs, preschool story times, after-school programs and summer reading program.
Outreach programs and partnerships with organizations such as UPK, local preschools and daycare.
Programs for middle school age and young adults.

Create displays, use posters and decorations in the children's and young adult areas to foster a welcoming atmosphere and promote reading.
Create and distribute promotional materials for youth programs.
Work at the circulation desk.
Other duties as assigned.
Minimum Qualifications
Graduation from High School or possession of a High School Equivalency Diploma and either:
Possession of 60 credit hours from a regionally accredited or NYS registered college or university; or
2 years of full-time experience that includes direct service to the public in a public or academic library; or
An equivalent combination of education and experience as set by the limits of (1) and (2) above.
Salary and Benefits

This is a full-time, 35 hour per week position with a starting salary of $16/hr. Benefits include vacation time, sick time, and 13 paid holidays. Enrollment in NYS Retirement Plan available.
Application Instructions

This is a civil service position and will be filled with a provisional appointment until the next eligible list is established. Qualified, interested parties should:
Deadline
Application materials are due May 1.